What I love about going to a car boot sale is that you really have absolutely no idea what you are going to find. Or what you're going to bring home with you. It's fair to say that you don't always want to bring home some of the things you find. But for other items you know that as soon as you clap eyes on them they have to be coming home with you. The latter was certainly the case when I spotted a couple of vintage Woolworth Knitting Magazines in amongst some knitting patterns and books that an old man was selling.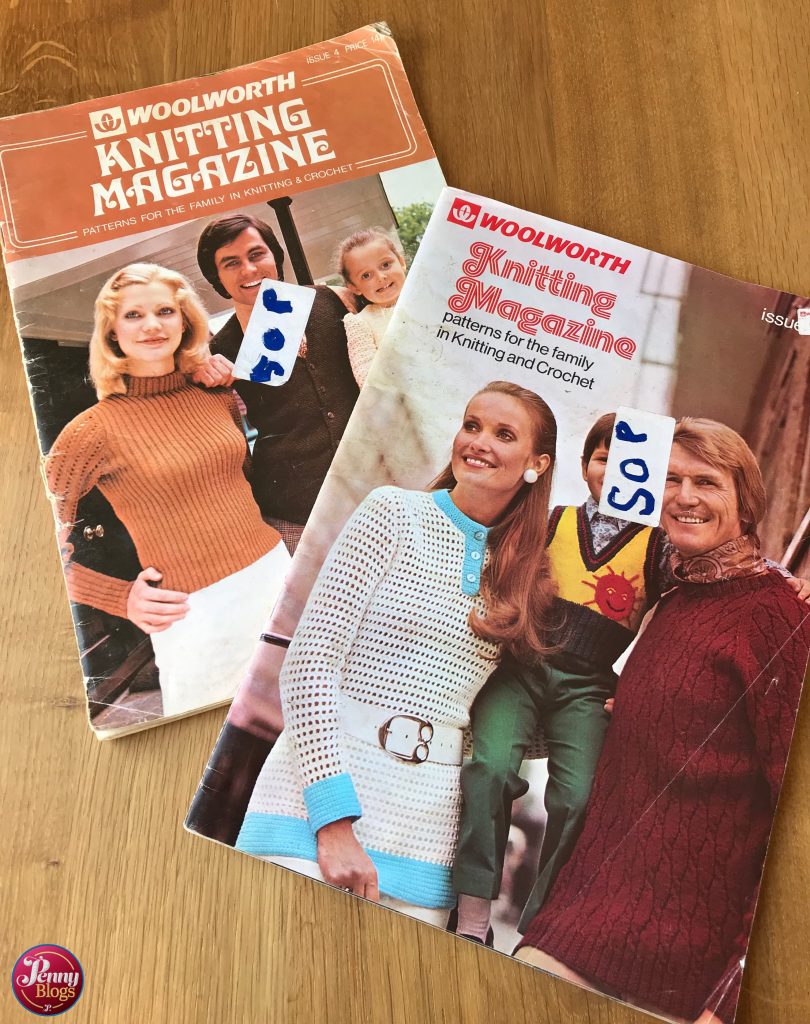 I'm trying not to dwell on the fact that it was a man on his own selling these, as I'm sadly guessing that it means his wife or partner has either died or is no longer able to knit. I'll certainly forgive him for the badly placed 50p each price stickers that have been slapped right in the middle of the covers of each of the two magazines.
On the outside they both look relatively tame. The 1973 issue 4 certainly shows how much brown and beige were in fashion at the time. Quite a contrast to issue 2 which came out in 1972 and had the boy on the cover wearing a very fetching pair of green trousers with a hand knitted yellow sunshine sleeveless pullover.
Inside Issue 3, 1972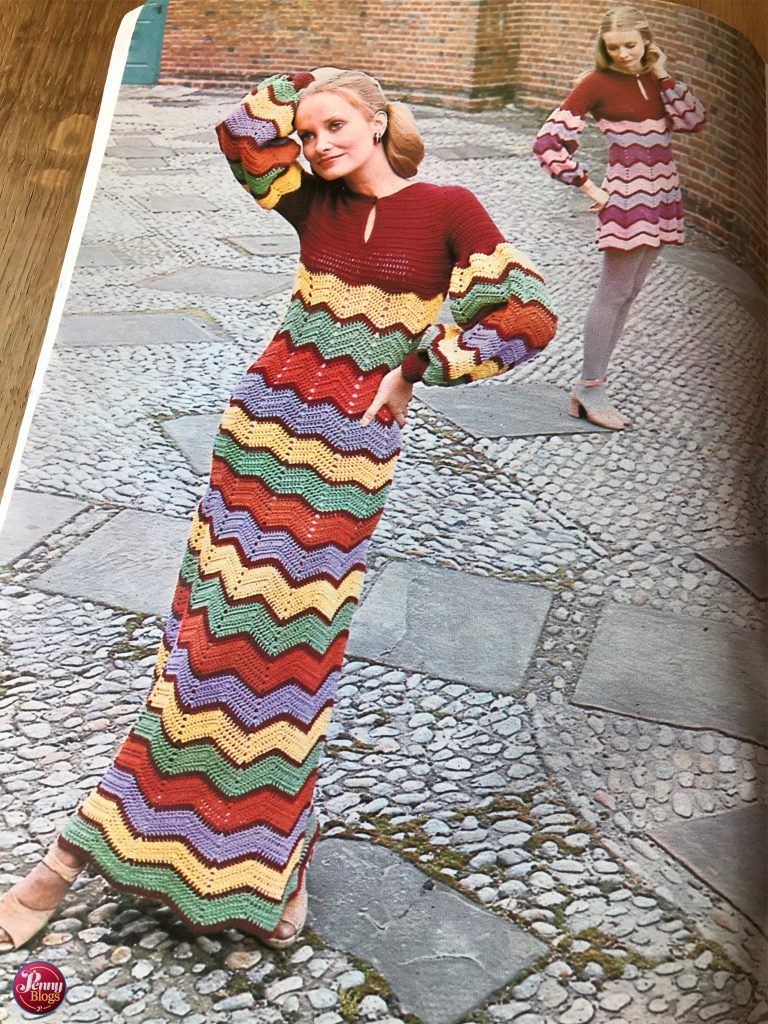 The covers were enough to make me pick up the magazines, but inside was something else entirely. This rainbow crochet maxi-dress is pretty special, but I'm not sure I can quite carry it off on the streets of Dunstable!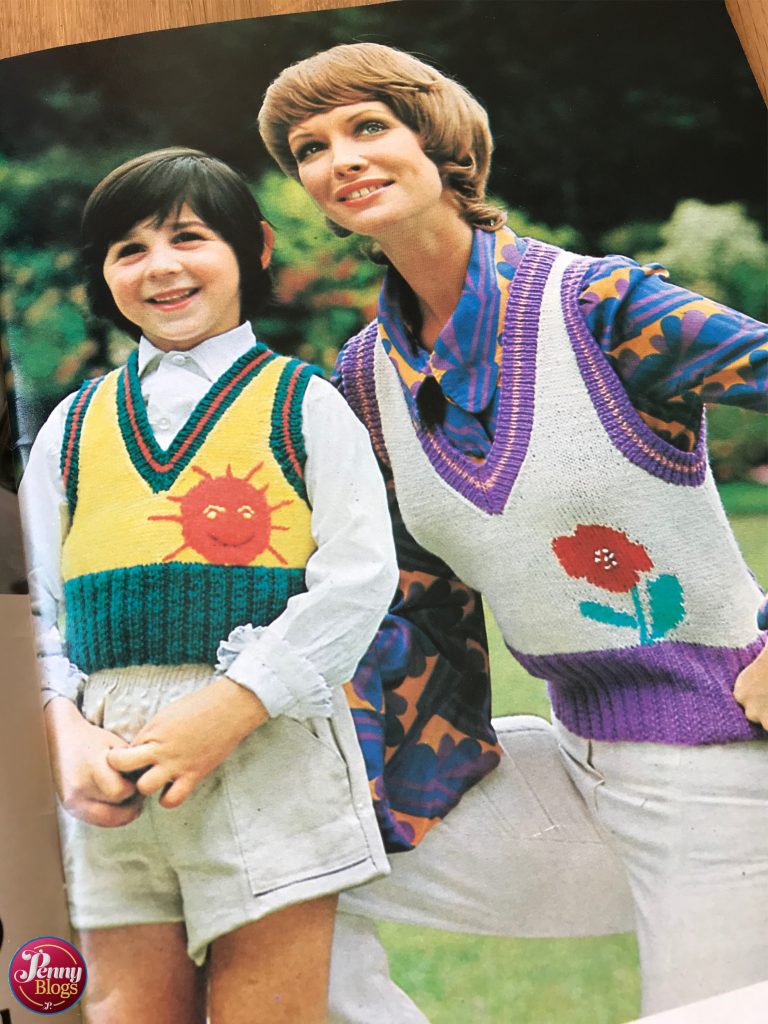 Maybe instead I should work on Master C and convince him that together we could rock the sunshine and flowers look?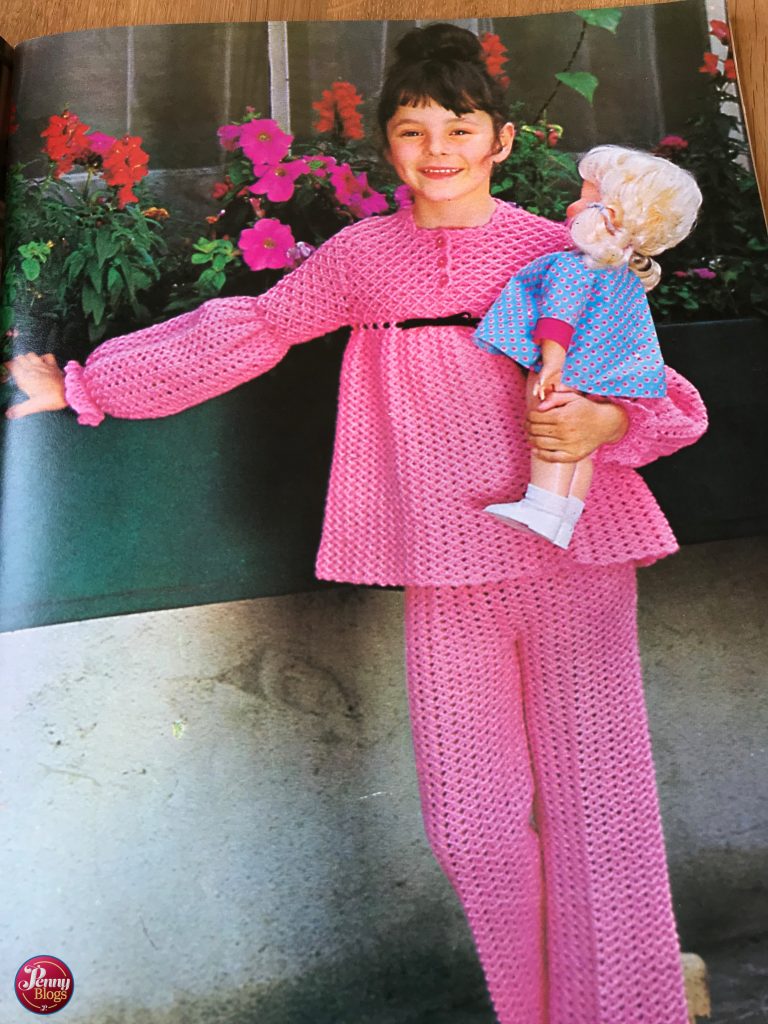 I'm not sure Little Miss C would forgive me if I presented her with this smock top and trousers combo. I don't think even doing it in a different colour would help much!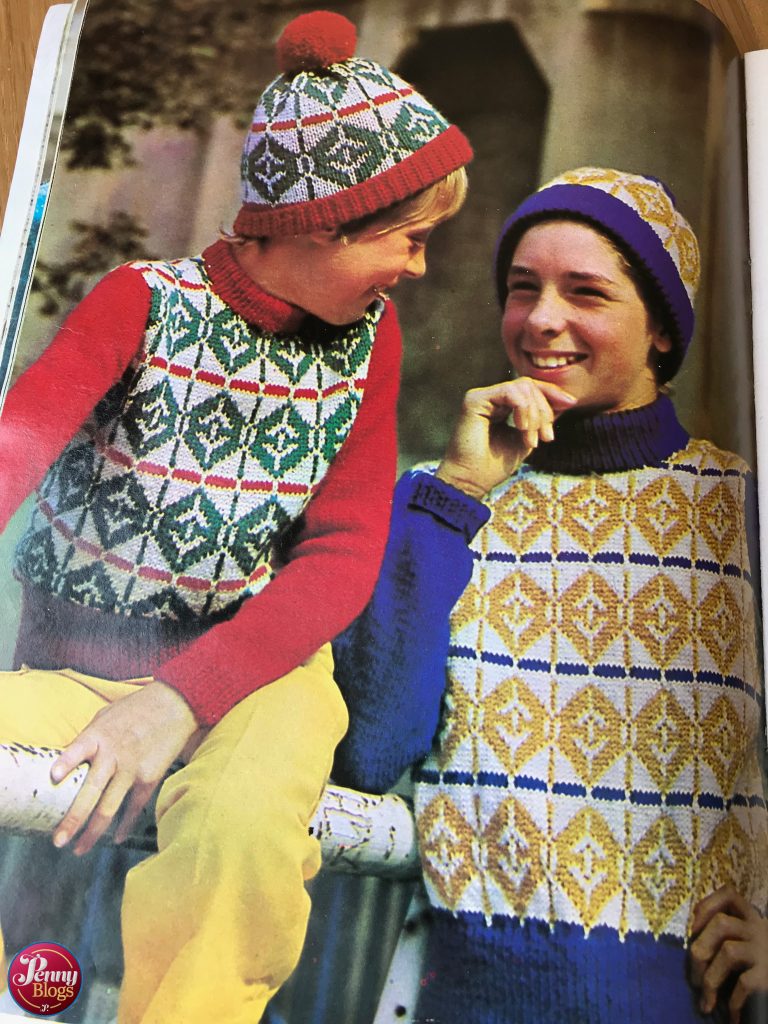 Perhaps I should set my attentions on winter instead and set the whole family up with co-ordinating ski-sweaters and hats? You'd certainly spot us all coming in the snow!
Inside Issue 4, 1973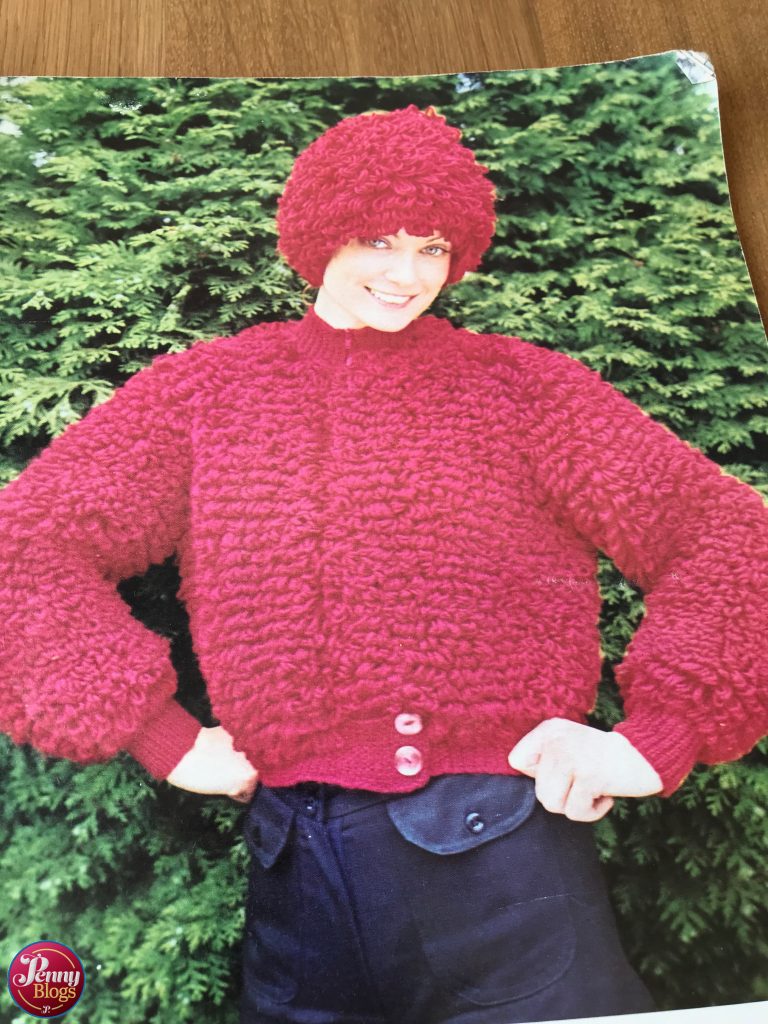 Despite the more sedate cover, the 1973 issue of the Woolworth Knitting Magazine opens with a bang with this on page 2! Who can possibly not want to make that??? Its title is "Loopy Outfit" and in 2019 I think you'd have to be a tad loopy yourself to go out in it.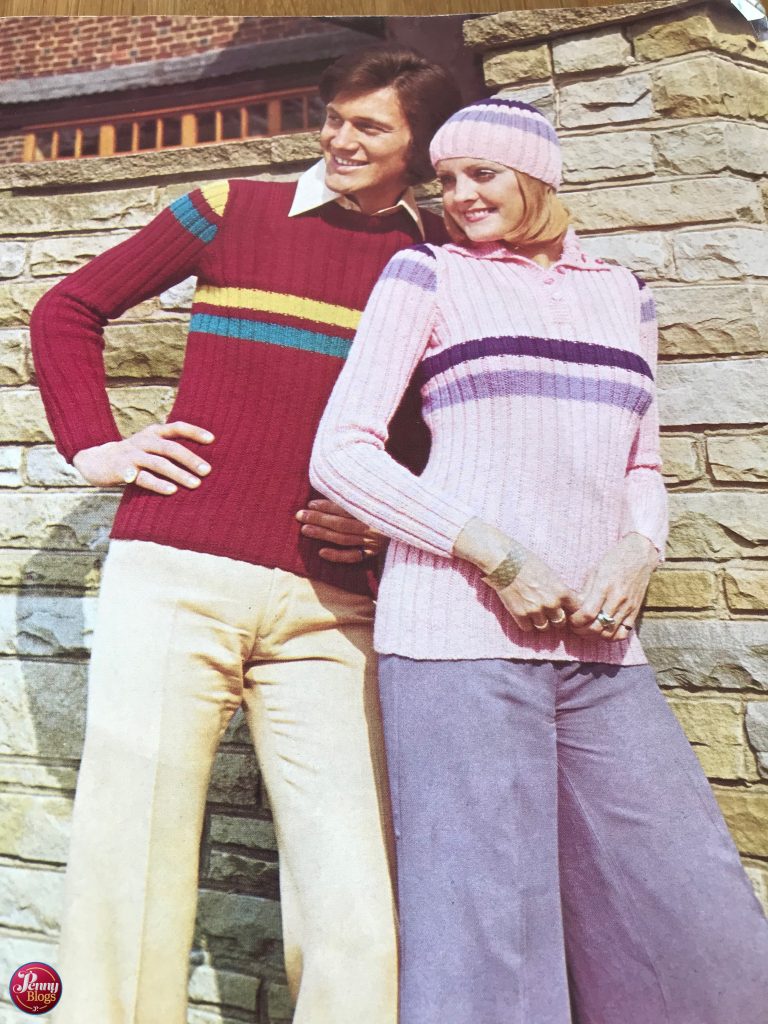 There are some fantastic "His 'n' Hers" sweaters and some brilliantly comedic posing from some of the male models in the magazine too as they show off their knitwear.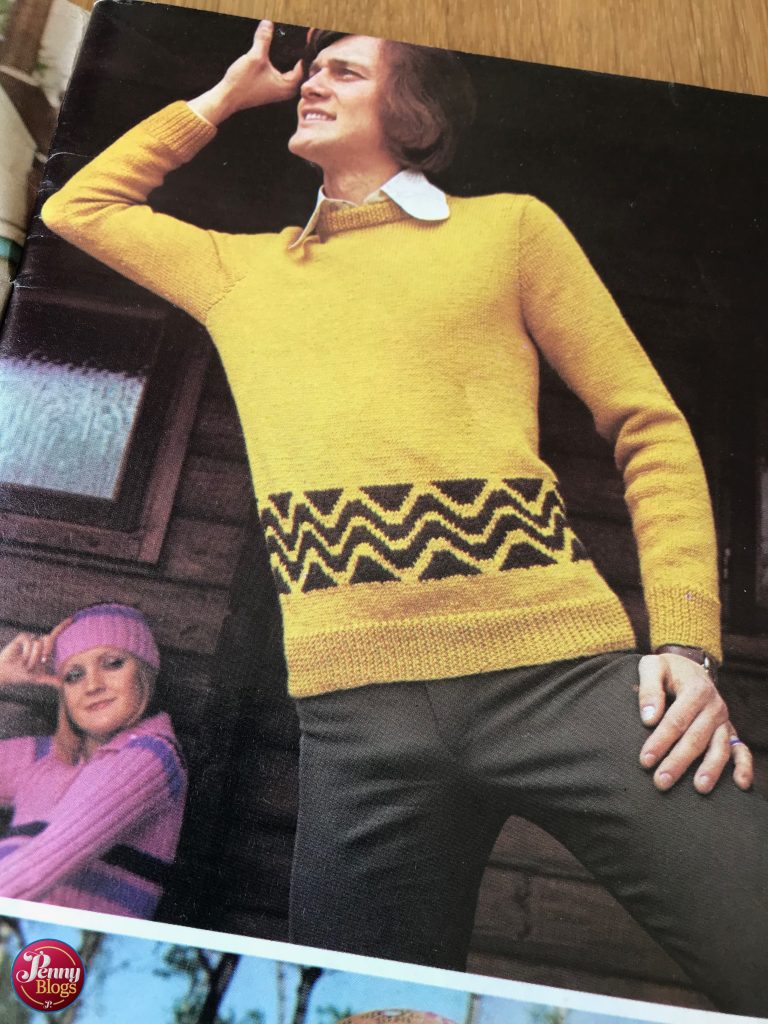 In fairness though this edition also has in it a fair number of tops that actually would look perfectly acceptable in modern times.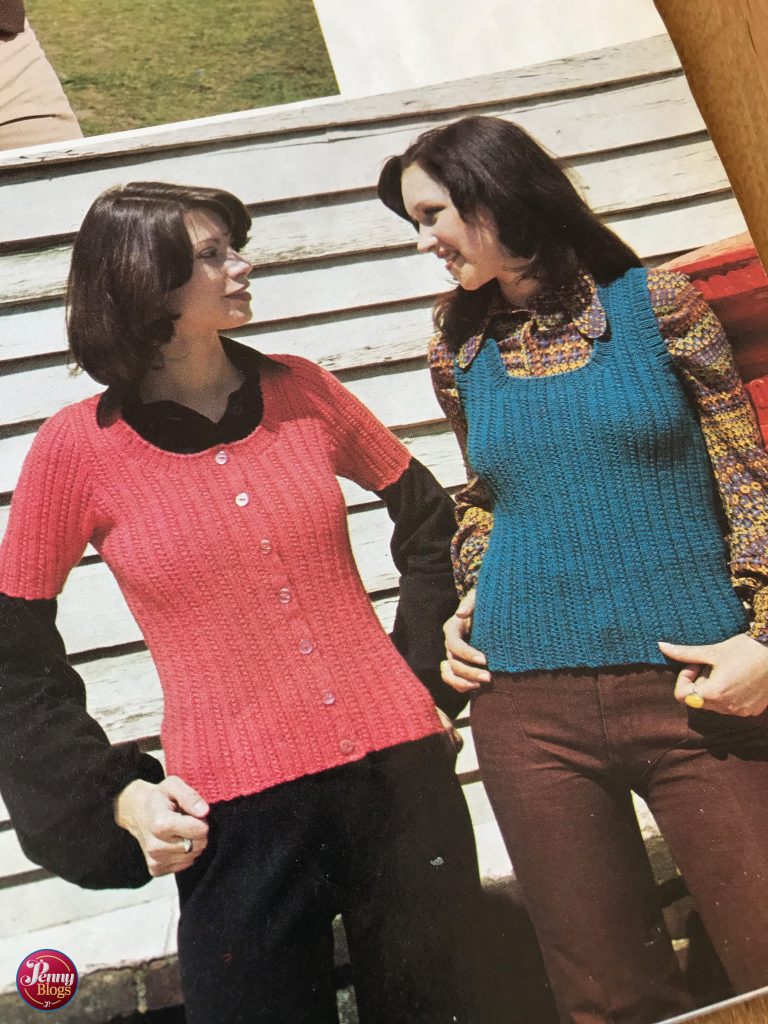 These "ribby tops" in particular would look perfectly nice with a pair of jeans for a vintage look.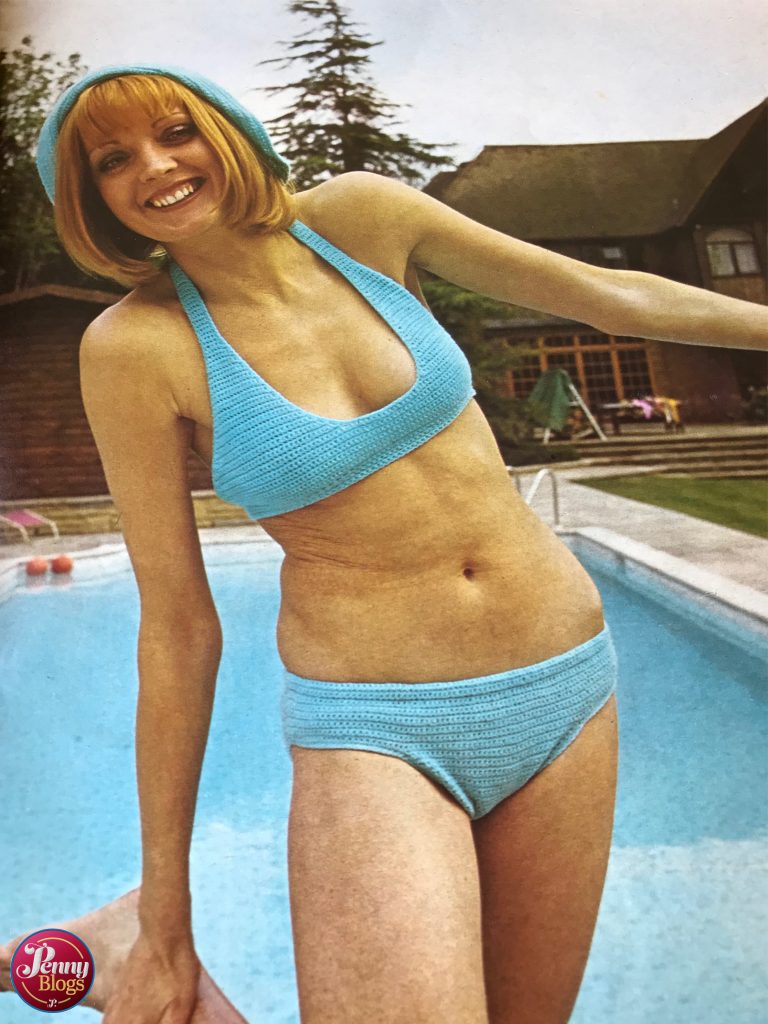 I'm not so sure I'll be wearing a crochet bikini on the beaches of Norfolk this summer though.
Woolworth have obviously had some tie in with Disney in 1973, possibly to mark the release of several of their big films at the cinema.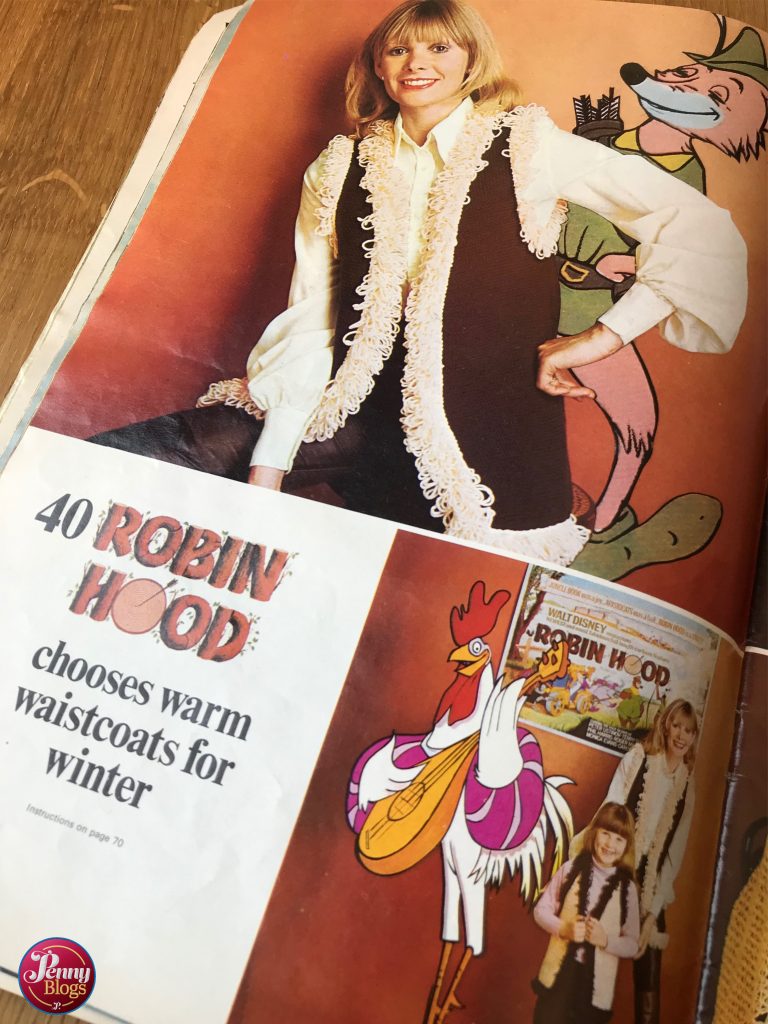 For Robin Hood fans you could ask you mum or grandmother to knock you up your very own waistcoat to keep you warm in the cinema.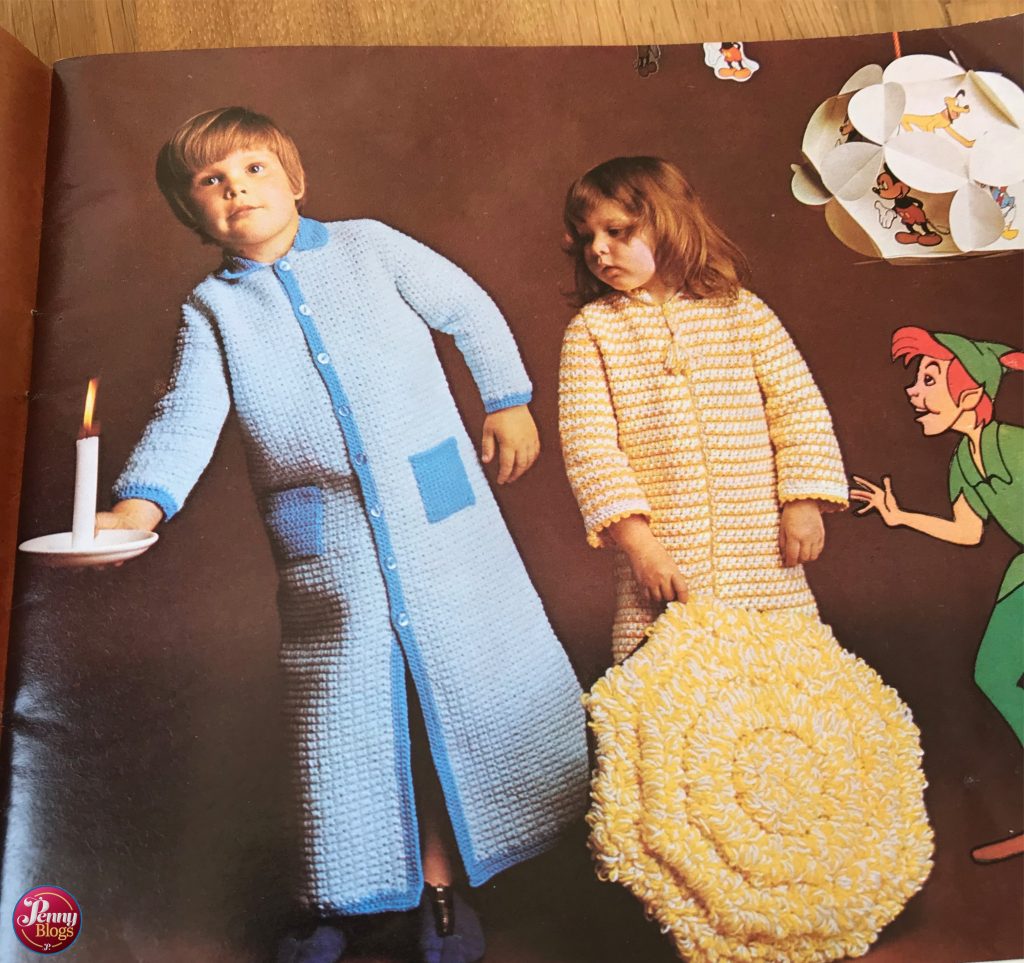 To keep the kids warm for their bedtime stories there are some remarkable crochet dressing gowns, although I'm not too sure if these kids are unimpressed by the dressing gowns or frightened by the candle.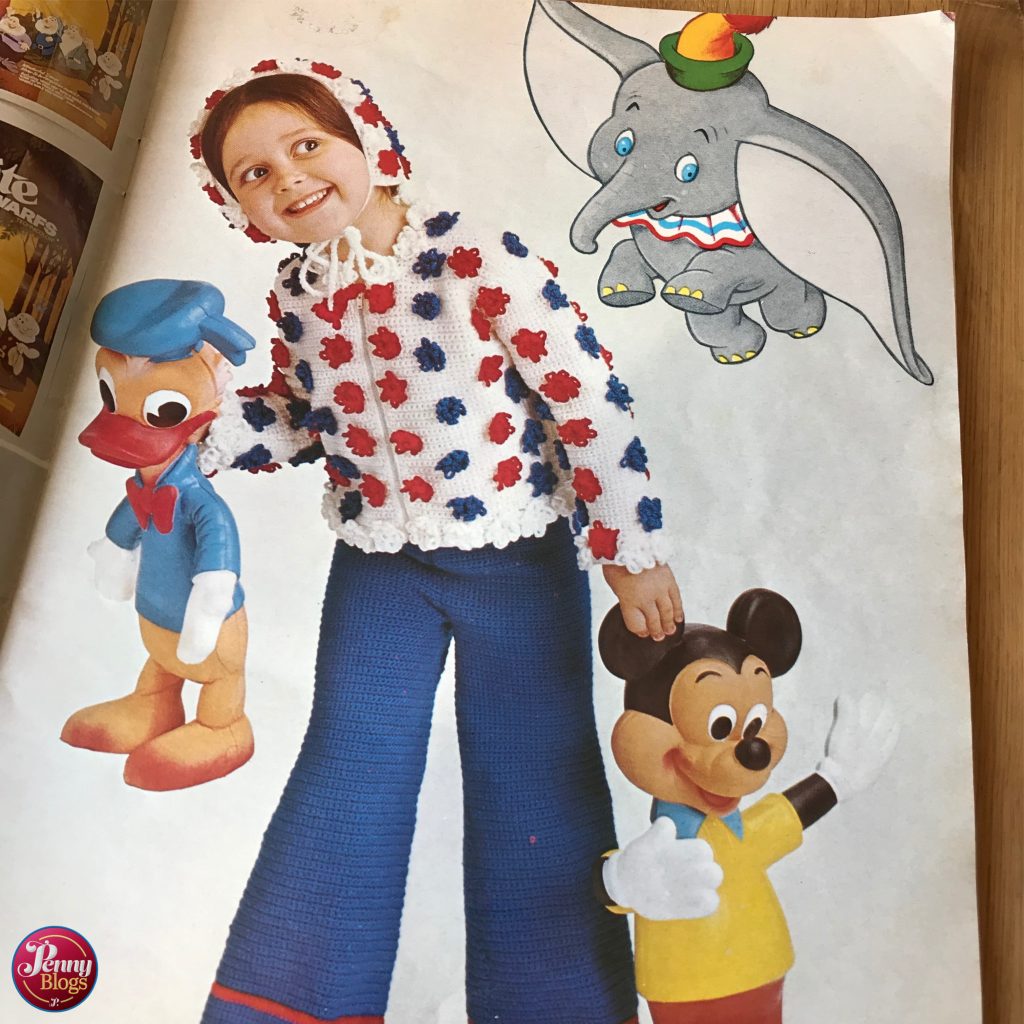 This Flower Power Toddler Suit has to be one of the most remarkable things I've ever seen. Probably not helped by the slightly deranged look on the girl's face. Heaven only knows what would happen to your child if you rocked up to a toddler group with them wearing it. They'd probably be a fire risk for starters!
It's been a while since I've picked up any vintage knitting or sewing patterns and until I sat down and properly went through these Woolworth Knitting Magazines I'd forgotten how much I used to love doing so. They transport you back in time so much. There's also all the vintage adverts I could tell you about – everything from toilet roll to sewing thread – but they'll have to wait until another blog post.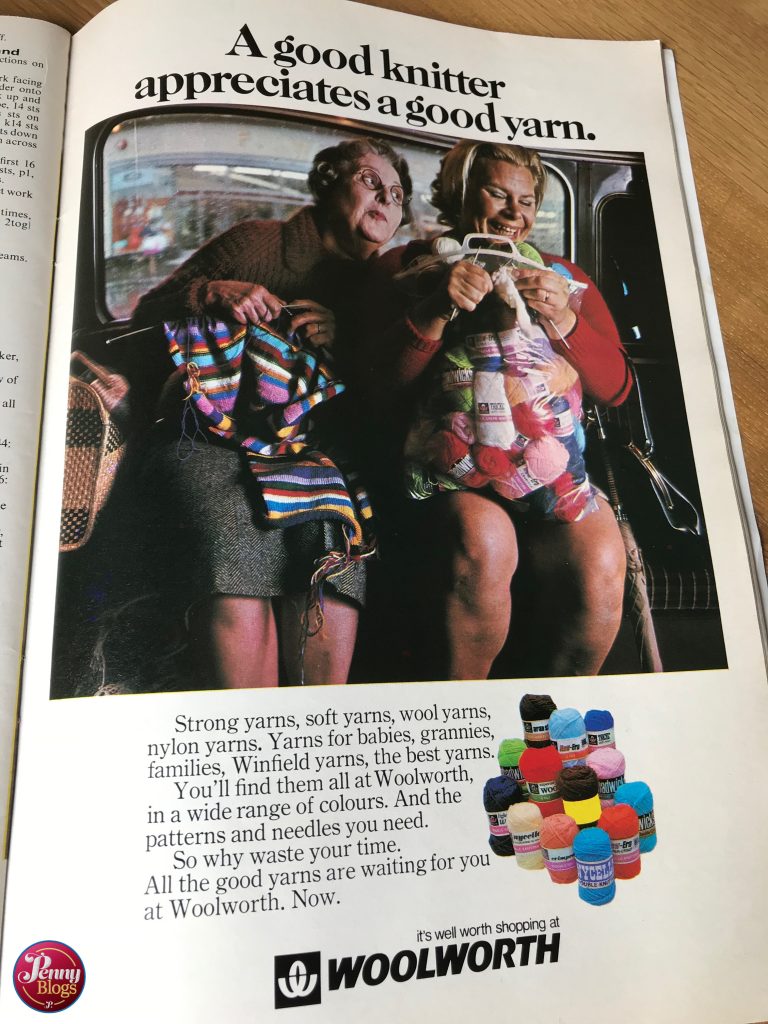 I'm back, writing about what I love, and that in itself makes me smile.