Hmmmmmm – the weekly pregnancy diaries seem to have petered out with married life! I could say that it's because I've been far too busy making sure that I'm the dutiful 1950s housewife with my husbands dinner on the table when he gets home from work and his slippers warmed by the fire. I'd be completely lying though. I have no idea where the last eight weeks have vanished to. None at all. Baby is still very firmly on the inside though and as I head towards my due date there's no sign as yet of him or her making an appearance.
I was hoping for the last 10 weeks of pregnancy to be nice and calm, but I'm not sure I've managed that. Family life seems to continue at a pretty frantic pace. I don't really seem to have much time to think about being pregnant, but then I've been quite lucky that this pregnancy hasn't really had any issues or complications.
I wrote ages ago about how we were given the choice as to whether to have a C-Section or not and we've decided on a natural birth – hence the fact that I'm sat here writing this at 39 weeks rather than having a day old baby in my arms – as yesterday would have been C-section day had it happened. Fingers crossed that was the "right" decision. Only time will tell though.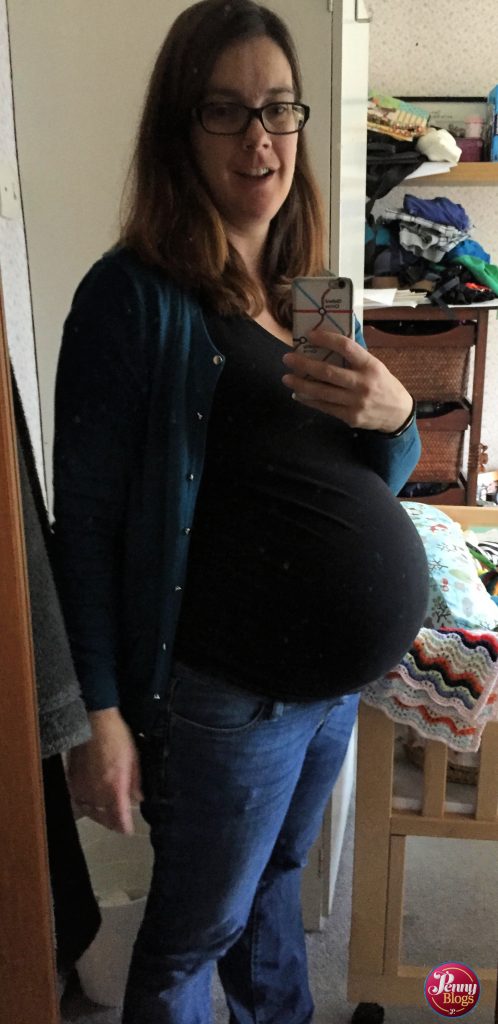 I've had a few general aches and pains, but nothing more that I'm expecting at this late stage of pregnancy. A lot of my back and hip pain seems to have reduced by having got back to my regular aquanatal classes. It's amazing how much they have helped. The Braxton Hicks have been ramping up all the way through pregnancy and I'm just hoping they're all good practice for the real thing.
This baby seems to love a morning snooze before going completely hyper in the evening. Sitting on the sofa and watching my stomach lurch all over the place as become a regular form of entertainment in our house. I honestly sometimes think they're making a bid for freedom straight out through my bump! I'm intrigued to see if they're a real squirmer when they arrive or not.
I think I'm ready for baby's arrival. Practically I've got things sorted. The cot is ready next to my bed. The car seat is already in the car and my hospital bag is packed. I have nappies, clothes, a little coat and lots of blankets ready. We've even decided on names. Logistics are in place for my kids should they be staying with me when baby arrives too and I have lists on my phone for what needs to be done in various different circumstances. Mentally I'm not sure I'm ready for the sleepless nights again, but will I ever be? There are certainly things I wanted to get done before baby arrived that haven't happened (taking more photos of this pregnancy being one of them!) but in that way I don't think everything will ever be done. I just need baby to be ready to make an appearance.
My last midwife appointment was nearly two weeks ago and at that I was offered a sweep – to fit in with local policy of trying to reduce the induction rate. I would have happily had one had baby actually been engaged. But it seems he or she wasn't ready. Both Little Miss C and Master C were late so I feel a bit resigned to this baby being too. Then again I've got three different due dates (the first of which has already past) so you never know. I'm back at the midwife later this week so let's see how baby is positioned then. Assuming they're still in there by then.
Until then though I'm trying out lots of walking and every old wives tale for shifting babies. It's definitely hit that stage where I'm over being pregnant. I'm just not sure how many evenings I'll get away with serving up curry for dinner!