There hasn't been anywhere near enough time for crafting of any sort lately. I'm really hoping that as we step into autumn I'll be able to make some time to spend evenings curled up with some knitting or crochet once more. My hands miss being busy, but at the same time I'm often so exhausted after a busy day that if I sit in front of the TV in an evening I'm most likely to fall asleep.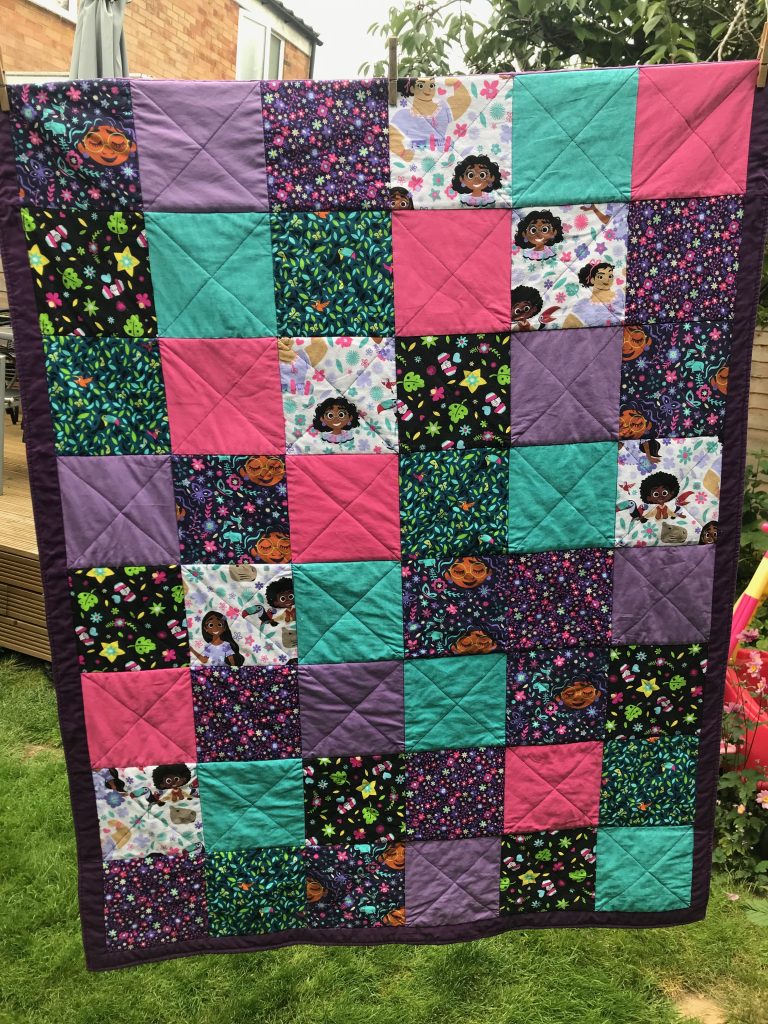 Looking back at the whole of 2023 I have generally been making attempts to actually finish craft projects rather than start new ones. With a couple of exceptions. One being something that I'm justifying to myself on necessity grounds rather than anything else – a Disney Encanto quilt for my youngest's bed.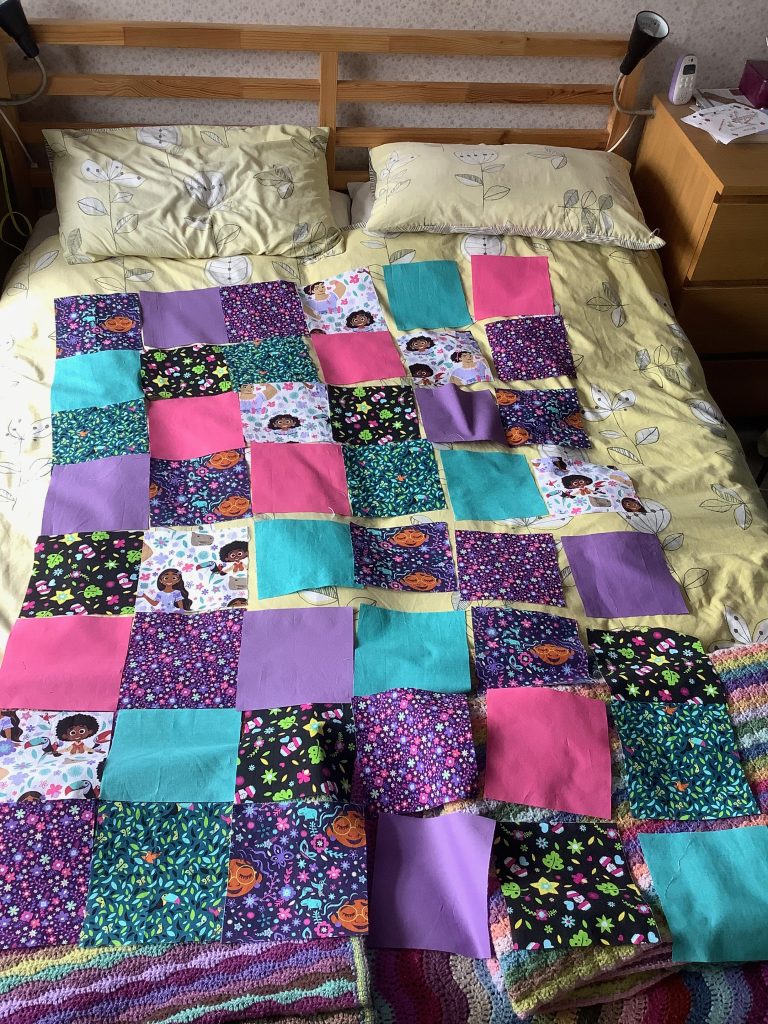 Until now she has normally been sleeping under a patchwork quilt that I originally started for my eldest daughter, Little Miss C. Bearing in mind that said Little Miss is now 13, you probably get a feel for just how long it took me to complete said quilt. My youngest did at least yet to sleep under it for all of last winter and it gave me a lovely warm feeling to know that she was going to sleep at night curled up warm and snug under something I made.
By now though she's shot up in height and was starting to get cold feet from them sticking out from under her quilt, so I knew it was time to start a new one. A chance trip to The Works for a sketch book for my eldest saw me happen upon an Encanto set of Fat Quarters. The youngest loves the film on Disney plus and so she instantly asked if I could make her something from them. A quilt seemed the obvious answer.
I bulked out the fat quarters with some plain pieces of cotton that I picked up at a local fabric shop in St Albans – Fashion 'n' Fabrics – and it wasn't long at all before I was cutting out squares and working out a layout. The edges and backing fabric came from the same shop, along with the batting inside. The design and sizing was made up as I went. I basically just tried to get as much as I could out of the fat quarters, having accounted for any wastage from fraying once the fat quarters were washed through.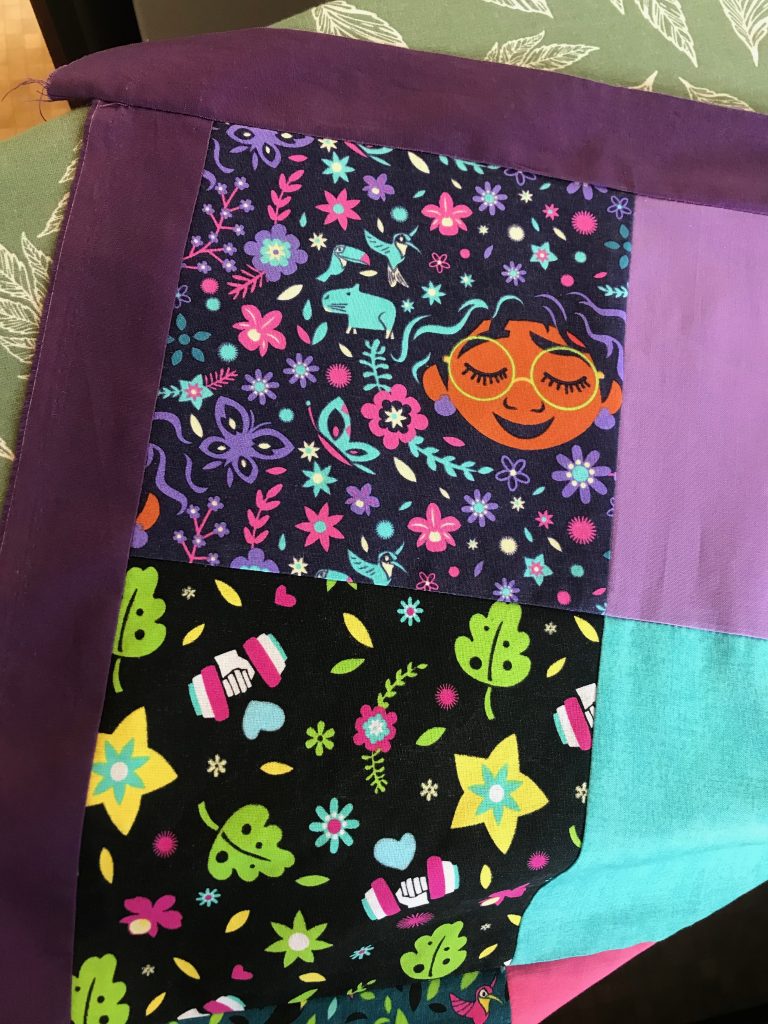 The edge sizes were again made up based on how much fabric I had and it's fluke really that it ended up the perfect size for the small cot bed that she sleeps in. I'm delighted with the fabric layout and how it's all turned out.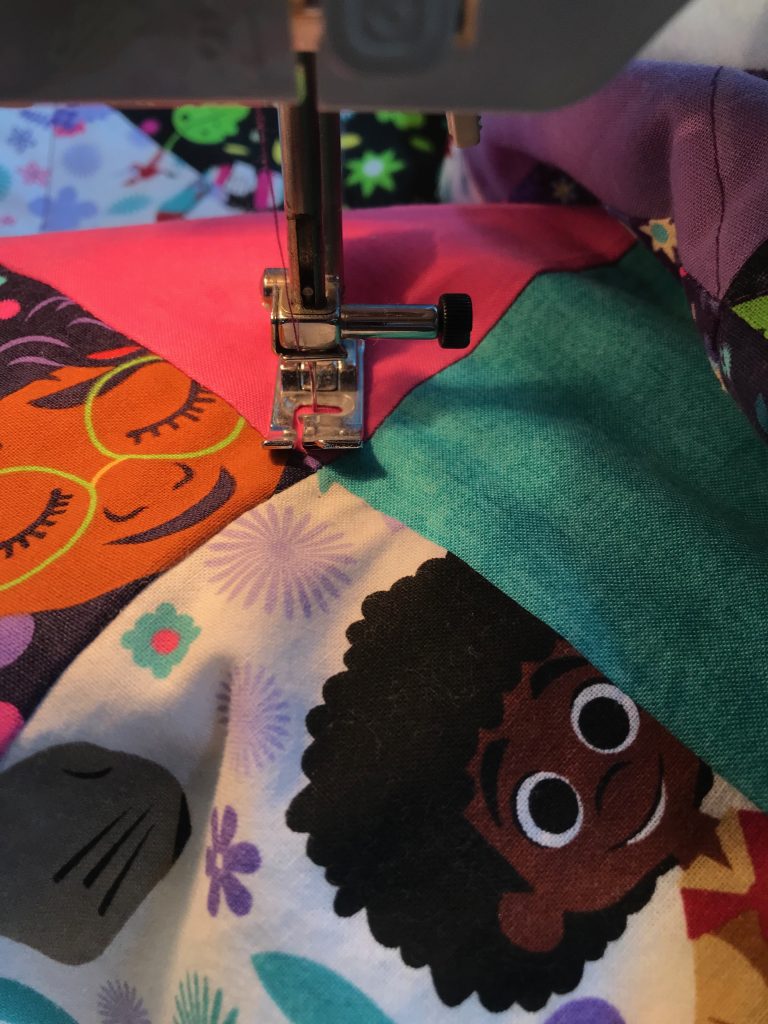 My sewing machine encountered a few problems when I was doing the final bits of quilting and so I spent hours unpicking and re-sewing right at the end of the make. Luckily my husband takes machines apart for a living and so was able to help take my sewing machine to pieces in an attempt to find out what was causing the problem. I'm not sure we managed to completely get to the bottom of the problem, but we did at least make enough progress to get to the end of making the quilt.
Just yesterday my daughter pointed out just how small the Harry Potter dressing gown I made her back in lockdown now is – so I'm expecting a request for a new mum-made dressing gown before Christmas. I guess I'd better get my machine properly fixed before then!