Pregnancy seems to be speeding up. I'm sure of it!
I'm now at the stage where I think I've honestly forgotten how pregnant I am. I can just about work it out if I use my fingers and consult the diary, but it seems that I'm so busy right now that I don't just have it instantly to mind.
Exhaustion
What I would say about the last two weeks is that I have felt utterly exhausted. I'm not sure if it's just down to trying to cram in a lot of stuff with all three kids the first weekend, but by Monday and Tuesday I was no use to anyone.
The first weekend had been crazy with a visit to the Dunstable Kite Festival, along with a very long day in London. We managed to squeeze in both a children's festival and a children's Prom (watch out for the blog post about it very, very soon) into one day. On opposite sides of London. Without very long at all to get between the two. And without any proper plans for lunch. What I learnt was that I need to slow down a bit. And eat properly. Valuable lessons that I'm trying to take forwards into the rest of the school summer holidays.
Lazy days at home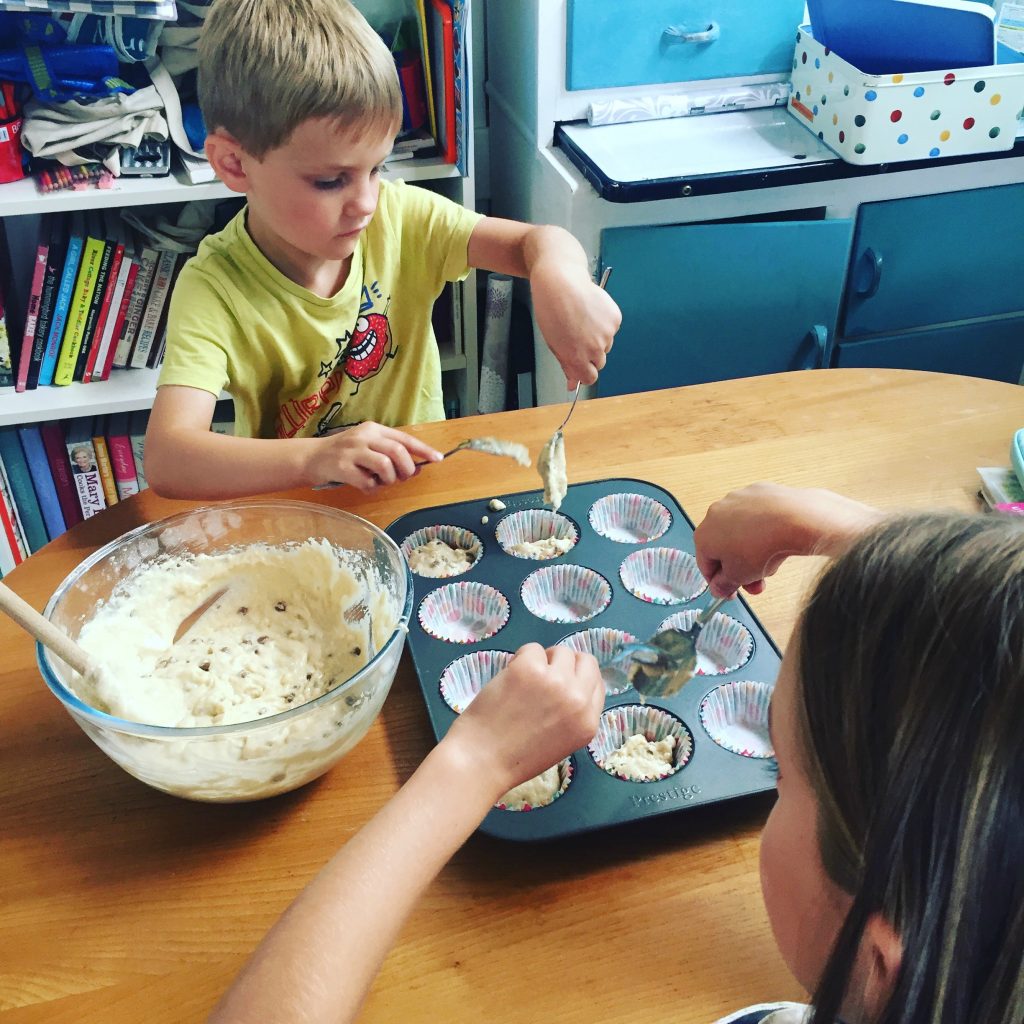 If there is a plus side form overdoing it though it is realising how much my kids like a day in which we do very little. A day full of board games, television, baking and happily pottering about the house. Don't get me wrong – the house is a tip at the end of it – but I think we all needed a few lazy days like this. It gave us time to reconnect somewhat and spend some quality time together at home.
Master C has got a bit of a thing for board games at the moment, so when he's not playing with his trains he's keen to find someone to play either Snake and Ladders or Ludo with him. Something I'm more than happy to agree to. Well, for the first nine or ten times!
Regaining my fitness levels
Another thing that I've noticed with this pregnancy is that I'm nowhere near as fit as I was with the last too. Back then I did the school run on foot and just generally seemed to have so much more energy. This time round I'm desperate to go to bed at the end of the day and in comparison walking and exercising very little.
I'm feeling. bit bad about that. Especially since I haven't even been able to make it to my weekly aqua natal class for about 6 weeks now.
The only regular bit of exercise I have been getting is when I take the kids to their swimming lessons once a week. I've made a real effort to start swimming lengths again whilst they have their lessons. It's a good thing for me to do – mentally and physically – and I'm realising I really do need to make some time to look after myself a bit better. I need to make time to go for walks and do other bits of exercise, as well as eating better too.
As I sit here writing this I have a week where the kids are staying with their Dad, and I'm trying to use it as an opportunity to get properly organised for the rest of the year. With the wedding and the baby I know that the next five or six months are going to be crazily busy and I also know that I need to be on top of things so nothing gets dropped. I just need to make sure I put time in my plans to concentrate on myself too.
Midwife appointment
Speaking of looking after myself, one thing that I do religiously make time for is medical appointments. I have to admit that I don't understand people who don't keep regular appointments. You're responsible for a little life inside you. How can you not make the time to go and see the Doctor or midwife?
I therefore waddled off to the local doctors' surgery for my 25 week mid-wife appointment, which was short and sweet. Although luckily not as disappointing as the last one was. This time around I did get to listen to the baby's heartbeat, but to be honest there wasn't a whole much more to the appointment.
A quick feel of my tummy told the midwife that baby (unsurprisingly) wasn't head down yet, and all my blood pressure and urine sample were also fine. I've already got the next two appointments with her in the diary and at those I've been told to expect another set of blood tests and also my Anti-D injection. It seems the way they do Anti-D is different from when I had my son and daughter, so that's yet another thing I have to get my head around.
Travelling around
I've also been making the most of the times when the kids have been staying with their Dad to accompany B on some of his work travels. I generally find that if I stay at home I end up not working that well as I get distracted by the various jobs that need doing instead. I therefore try and find cafes with wifi near where he is working and go with him and concentrate on my work whilst he is at work. I can make a cheap cup of coffee or tea last a good couple of hours if needs be, but it does mean I get so much more done. At the same time I can also make the most of the car journeys for a bit of crochet or sewing (which is like mental therapy to me!) and get to see a bit of the country at the same time.
Brighton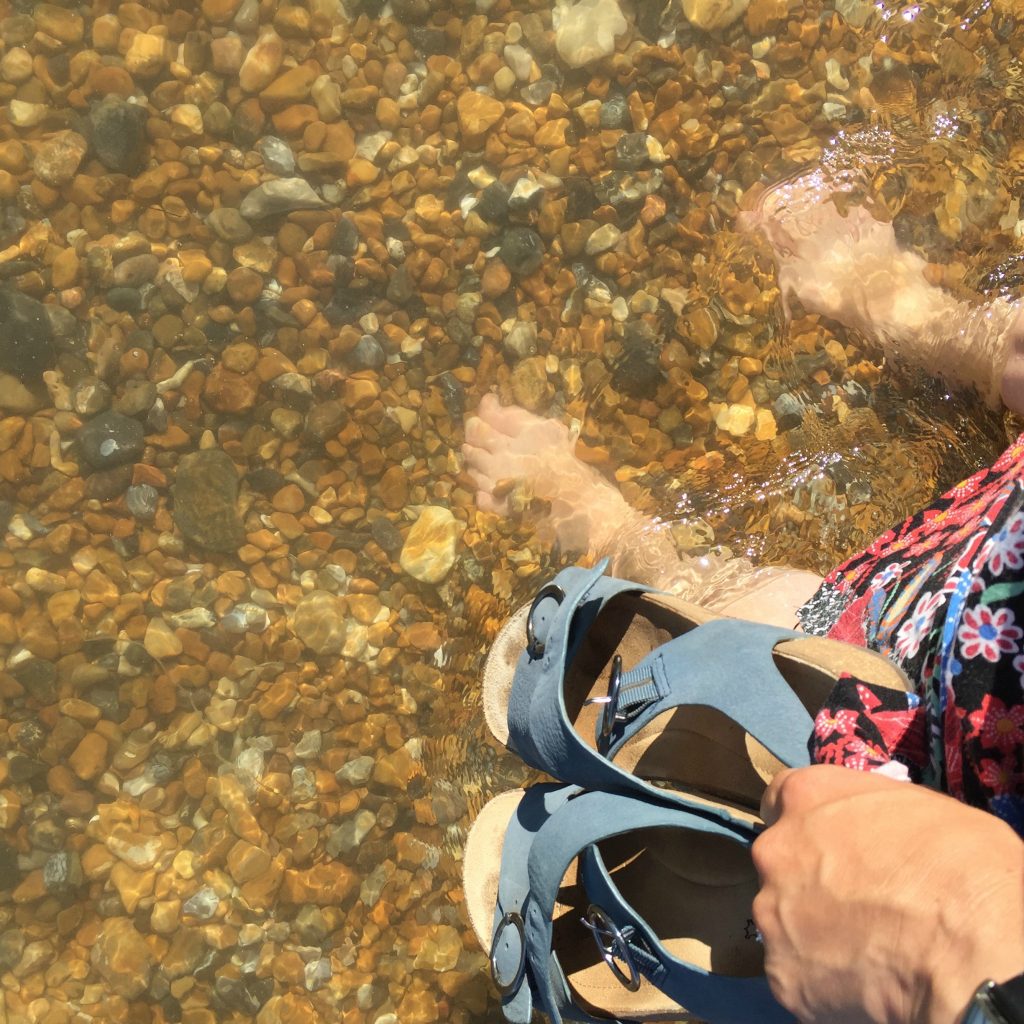 We were lucky enough to be in Brighton the day before Brighton Pride and loved the carnival atmosphere in the town. I found some gorgeous cafes and shops and even managed to find my wedding dress on a sale rack for the bargain price of £15 whilst there! That afternoon we sat on the beach watching the waves come in and it was just perfect.
Colchester
I also tagged along when he had to go to Colchester, which gave me a perfect excuse to catch up with my blogging friend Mary over a cuppa and piece of cake. We worked out that it's been about two years since we last managed to catch up in person and it was an excellent reminder of how wonderful some of the blogging friendships I've made over the years are. She took me to a lovely vintage tea rooms and we platted a return visit so that we can go to the local board game cafe too. Colchester – we'll be back!
As if that wasn't enough as we made our way home, we delayed lunch plans slightly as the heavens opened, but that meant that we happened to be driving past the East Anglian Railway Museum just as our stomachs were rumbling.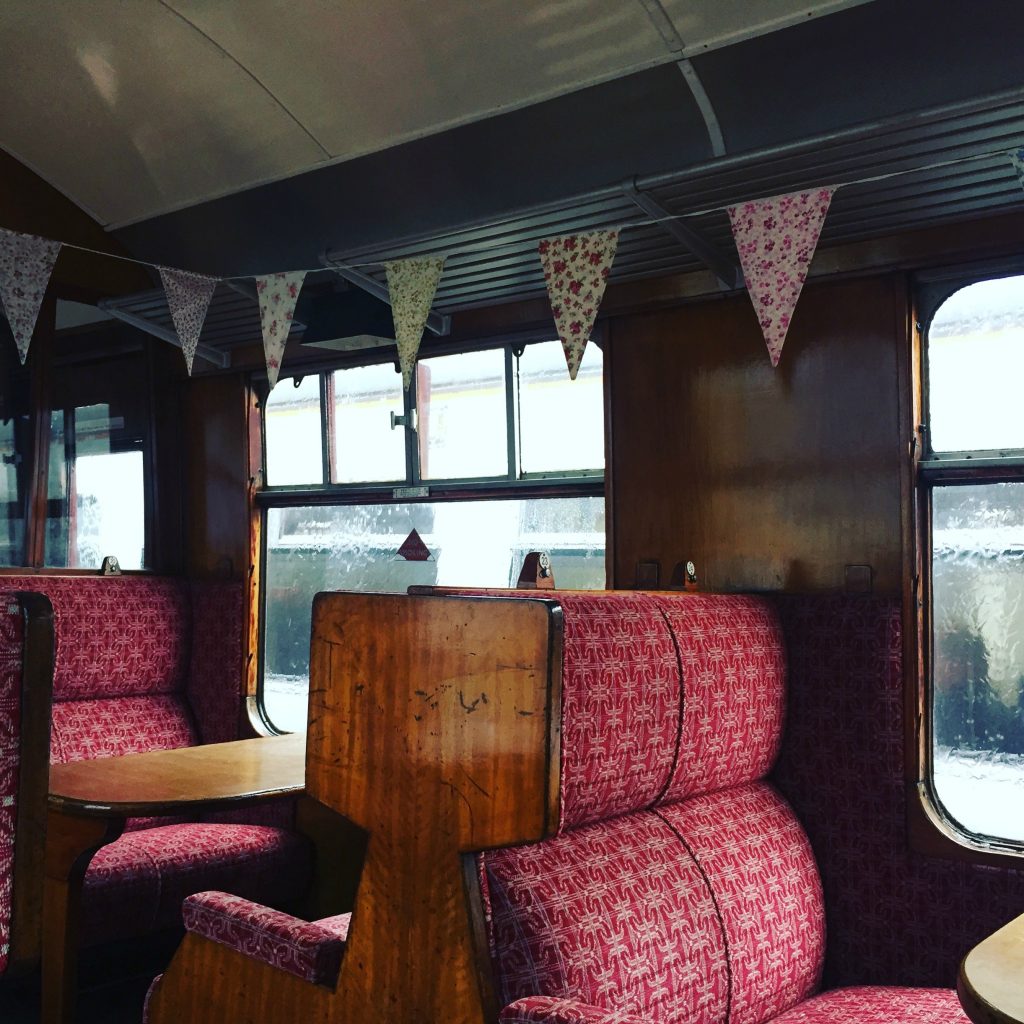 Unfortunately the need to get back to pick up the kids meant that we didn't have time to do the museum itself, but the pair of us loved having lunch in an old railway carriage on one of the platforms as we watched real trains go through the middle of the museum. Yet another reason to return soon.
Norfolk
As if all that wasn't enough we also managed to squeeze in a quick overnight trip to Norfolk to see B's family. We figured it was the last chance we'd get before the wedding so we thought we ought to make the effort.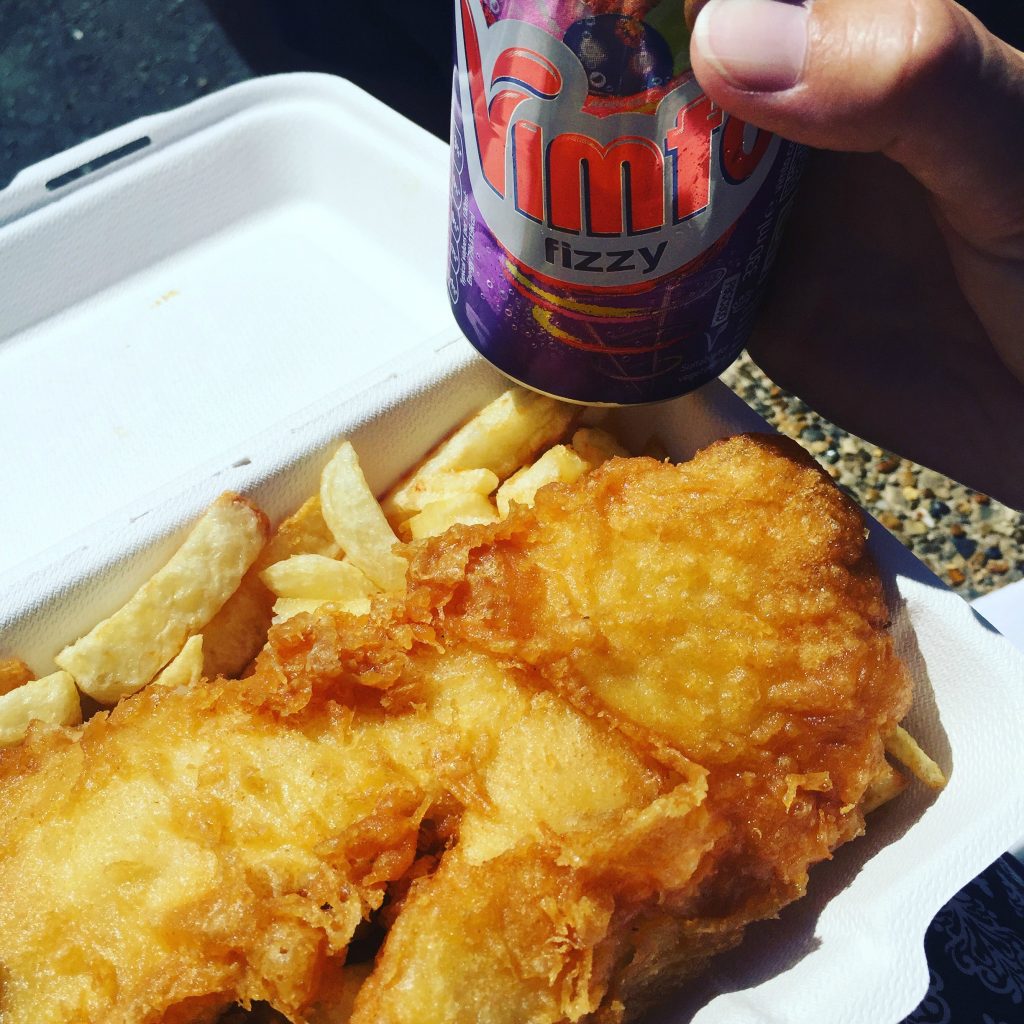 It was very much a flying visit, but no visit to Wells Next The Sea would be complete without fish and chips from French's. If you're ever in the area it is the place to go. Don't let the queue put you off. It's well worth the wait.
The gorgeous weather also meant that we were desperate to fit in a beach trip and we managed it. Holkham is one of B's favourite beaches and I totally agree as to why. It's just so big that even on the busiest of days it doesn't seem busy. There's also something completely magical about paddling in the sea and it's one of those things that I think should be done at every possible opportunity.
Leighton Buzzard Railway
The fortnight finished with a final trip out with the kids to the Leighton Buzzard Railway. Master C is a huge train fan and seeing as Leighton Buzzard is our closest train day out we thought it about time we visited.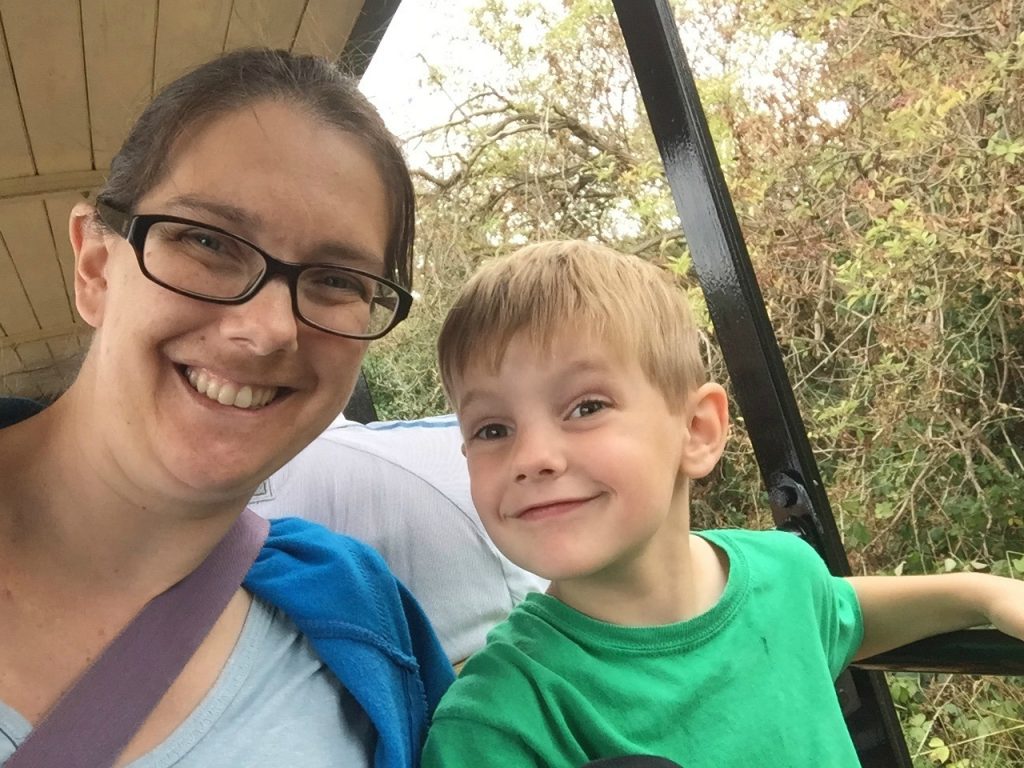 Needless to say the kids had a ball (full write up coming soon on Penny Travels) but once again it reminded me how much days out are exhausting me with this pregnancy. Luckily we were able to change our plans and just stay home the following day, but it was another reminder not to plan too much these holidays.